The Ghana Police Service Ranks are divided into two (2) main divisions namely the Senior Rank also referred to as the Officers Rank and the Junior Ranks. The Highest officers rank in the Ghana Police Service is the Inspector General of Police shortly referred to as the IGP.
The Highest rank in the Junior Rank is the Chief Inspector. All other officers within the Junior rank are required to report to the Chief Inspector. In this article, we will outline all Senior and Junior officers ranks from the highest to the lowest with their respective insignias.
About the Ghana Police Service
Ghana Police Service is the primary law enforcement agency in Ghana. It protects and preserves the internal security of Ghana, ensuring that citizens remain at peace. The Ghana Police Service (GPS) also focuses on crime prevention, detection, and even the prosecution of offenders.
Read Also: Ghana Customs Ranks and Symbols
Ghana Police Service Officers Ranks
Below is a list of all the Ranks in the Ghana Police Force starting from the highest ranks to the lowest ranks.
Senior Ranks in Ghana Police Service
Inspector General of Police
Deputy Inspector General
Commissioner
Deputy Commissioner
Assistant Commissioner
Chief Superintendent
Superintendent
Deputy Superintendent
Assistant Superintendent
Junior Ranks in Ghana Police Service
Chief Inspector
Inspector
Sergeant
Corporal
Lance corporal
Constable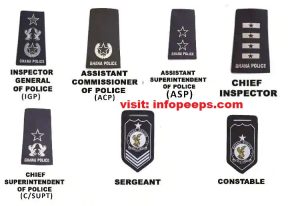 Read Also: Ghana Customs Service Ranks and Salary
Ghana Police Entry Requirements
Applicants interested in joining the Ghana Police Force must meet the following requirements in order to be eligible for recruitment;
Applicants must be Ghanaian by birth
Must be Ghanaian over 18 years and less than 25 years by the 1st of December, 2023
Height (173 centimetres or 5 feet 8 inches for males and 165 centimetres or 5 feet 4 inches for females)
Applicant must have clean records from the Criminal Records Department
Must meet the standards of Ghana police service medical examination;
Must be of good character
Click the link to join our telegram channel for timely updates