Travelling to other destinations in the world is a nice experience and most Ghanaians would equally love to enjoy this experience. So many factors come to play when travelling, especially to a different country. Challenges such as finance, visa acquisition, Health tests amongst others are some of the few challenges we face as travellers.
One piece of document that cannot be overlooked during an international voyage is the visa. Visa acquisition can be a hectic procedure depending on your country of destination and the type of visa you may be applying for. But if you are a Ghanaian passport holder, then you are entitled to visit 40 – 62 countries without a visa requirement as of 2021/2022.
In this article, we bring to you a list of our top 5 (five)  out of all the countries you can visit without a visa as a Ghanaian passport holder.
1. Singapore:
Singapore is a beautiful country located in Asia with a population of a little over 5,453,600 as of 2021. It has the second greatest population density in the world and also embraces multi-culture identities nationwide.When it comes to communication, English, Mandarin Chinese, Malay, and Tamil are the four main languages spoken but English remains the main medium for administration, commerce, and industry, and it is the primary language of instruction in schools. It is interesting to note that Singapore has the largest port in Southeast Asia and one of the busiest in the world. Ghanaian passport holders willing to visit Singapore can stay visa-free for 30 days. But your passport must be valid for six months at the time of departure with 2 blank pages.
2. Rwanda:
Second, on our list is Rwanda, A small beautiful and fast-growing land-locked country located in East Africa officially called the "Republic of Rwanda". This country has a population of a little over 12,374,397 as of 2019. Kinyarwanda is the principal language spoken by most Rwandans, with English and French serving as additional official languages.
Ghanaian nationals can stay in Rwanda visa-free for 90 days. Rwanda grants free visas on arrival to Ghanaian citizens for stays up to 90 days. You must apply for an extension of your visa while it is still valid. A grace period of 5 days after a visa has expired is allowed for a person to either depart or renew their visa without a penalty; otherwise, the person will be subjected to a penalty and may be refused a visa extension. Your visa must be valid for six months at the time of entry into Rwanda, with one blank page.
3. Indonesia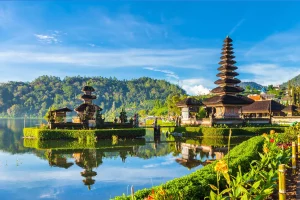 Indonesia is officially known as the "Republic of Indonesia" is a country in Southeast Asia and Oceania between the Indian and Pacific oceans. Indonesia is the world's largest island country and the 14th-largest country by area with a population of a little over 270 million people as of 2020. Indonesia is the world's fourth-most populous country and the most populous Muslim-majority country.
Citizens of Ghana travelling to Indonesia with the intention to stay for 30 days or less do not require a visa. A free entry stamp cannot be extended. A fine of IDR 300,000 will be paid daily as a penal fee for defaulters. Ghanaian visitors are required to have a passport valid for up to six months from the date of arrival. Ghanaian visitors should have at least one blank page on their passports.
4. Barbados
Barbados is a small island country in the Caribbean region of the Americas with a population of a little over 287,025 as of 2019. English is the official language of Barbados and is used for communications, administration, and public services all over the island. For most people, however, Bajan Creole is the language of everyday life. It does not have a standardised written form, but it is used by over 90% of the population.
Ghanaian passport holders can stay in Barbados visa-free for a period of 180 days (six months). Visitors intending to visit Barbados require no visa. Before entry into Barbados, visitors must have a passport valid for the duration of their trip. Visitors must have a return ticket to their country of residence, the intended address they are visiting and evidence of personal support.
5. Jamaica
Last but not least on our list is another popular but small island country situated in the Caribbean sea which is commonly known as Jamaica. Jamaica is regarded as a bilingual country, with two major languages in use by its people. English is used in all domains of public life, including the government, the legal system, the media, and education. However, the primary spoken language is an English-based creole popularly referred to as the Jamaican Patois (or Patwa). As of 2018 Jamaica has an estimated population of 2,726,667.
Ghanaian passport holders can stay in Jamaica visa-free for a duration of 90 days. Your passport must be valid for the duration of your stay in Jamaica. Before entry into Jamaica, visitors must have a valid passport, one passport photograph, a copy of a flight itinerary, and proof of sufficient funds. Unlike some visa-free countries, Ghanaians visitors have to pay an arrival and departure tax.
Click the link to join our telegram channel for timely updates